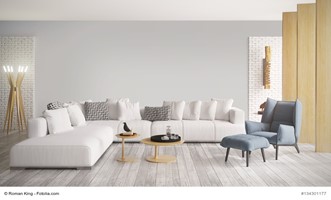 If you intend to sell your home in the near future, you may want to upgrade your residence's interior. In fact, there are many reasons to improve your home's interior before you list your house, and these reasons include:
1. You can differentiate your residence from the competition.
For a seller who wants to help his or her home stand out to buyers, upgrading a residence's interior is ideal. Because if your house boasts a fabulous interior, your home is sure to make a great impression on buyers.
As you consider home upgrades, you may want to consult with interior designers as well. These home interior experts are happy to offer tips and insights so you can improve your residence's interior in no time at all.
2. You can boost the likelihood of a profitable home sale.
When it comes to selling your home, your ultimate goal likely is to earn as much as you can from your house sale. Thanks to a stunning home interior, you can increase your chances of enjoying a profitable house selling experience.
Remember, a dazzling home interior may make it simple for buyers to fall in love with your residence as soon as they walk through the front door. If multiple buyers compete to acquire your home, you may receive several offers to purchase at or above your residence's initial asking price.
3. You can speed up the home selling journey.
There is no telling how long it will take you to sell your house. But if you improve your residence's interior, you could make your home an attractive option to dozens of buyers. And as a result, you could reap the benefits of a fast home sale.
Of course, for those who want additional assistance during the home selling journey, hiring a real estate agent may prove to be beneficial. A real estate agent takes the guesswork out of selling a home, regardless of the current housing market's conditions.
If you want to bolster your home's interior, a real estate agent is ready to assist you in any way possible. He or she will walk through your home and offer suggestions so you can quickly enhance your house's interior. A real estate agent may be able to connect you with the top interior designers in your area, too.
In addition, a real estate agent offers plenty of assistance as you navigate the home selling journey. If you are unsure about how to price your house, for example, a real estate agent can help you analyze your home's strengths and weaknesses so you can price your residence appropriately. Or, if you are uncertain about whether to accept an offer to purchase your house, a real estate agent can help you make the best-possible decision.
Ready to add your home to the real estate market? You may want to upgrade your house's interior first. Because if you perform home interior upgrades today, you may be better equipped than ever before to enjoy a successful house selling experience.