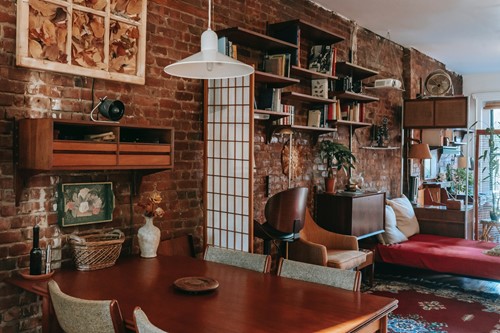 Photo by Charlotte May from Pexels

If building a home is in your plans for 2021, you have many design options. Sometimes the options can feel overwhelming. To create a trendy, modern home, take some time to look at current design trends. These are the features builders are embracing in 2021 that are worth considering for your home.
Natural Light Reigns Supreme
Interior design trends for 2021 are focused on Zen and peace, and natural light is a key feature. Adding natural light to your home works best during the construction phase. Plan for many windows to let the natural light into your space. Skylights, walls of windows and sliding glass doors are important additions to the modern home design.
Home Automation
The rise in smart home tech has led to an increased demand for automation in homes. At the touch of a button or a spoken word to Siri or Alexa, you can turn on the furnace, open the windows, turn on or off the lights and check on your home security system. Adding automation and smart home features during the building stage, rather than adding them as an upgrade later, is far more intuitive. Not only does home automation make the home more comfortable, but the right smart home tech can make it more energy-efficient.
Open, Multipurpose Spaces
If 2020 showed us anything, it was the fact that we need to have spaces in our homes that perform multiple roles. Multipurpose spaces are living rooms, home offices, movie theaters and more, all in one room. To achieve this without feeling too crowded, homes in 2021 are embracing open designs. A great room that can be a dining area, office and living room, with plenty of space for the family to spread out, is a good choice. In a smaller floor plan, this may even include merging the kitchen with the living room to create a more open design.
Outdoor Living Spaces
Carefully designed terraces and balconies are playing a big part in design in 2021. When designed well, these features allow you to embrace outdoor living all year long. Glass enclosures that look like they are outdoors (be sure to add some protection from the elements) are growing in popularity. Many are designed to open, so the fresh air can flow in when the weather cooperates.
Industrial Styles
Industrial materials and styles are a popular choice within 2021 home designs. Asymmetrical construction, exposed iron or brick and aluminum or iron elements are part of embracing this style. Fewer finishes, like drywall to cover brick and wood, makes this a more affordable option to consider as well, and when done well, it can be highly attractive. If the home's plan is not set up for this type of exposed industrial style, designers can embrace it with lighting, cabinetry and flooring options.
As the 2021 home building market continues, understanding current trends will help you choose the right design for your home. By exploring these design ideas, you can start planning a home that is modern, trendy and full of elements you love.