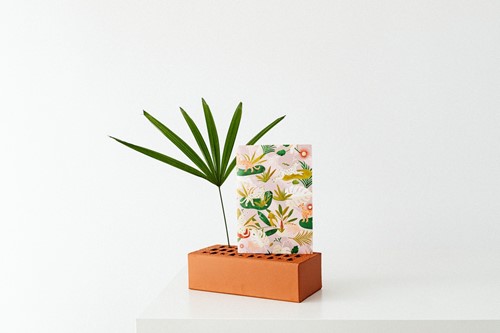 Indoor plants can help boost your mood, productivity, concentration and creativity. But being a plant parent means finding the right ways to display your flora so they can grow and thrive in any space. We're going to dive into several ways you can set up your plants so you can enjoy a piece of the outdoors—indoors.
1. Floating Plant Shelves
Floating plant shelves, available online and in home decor stores, are popular for their clean and minimalistic look. They come in a variety of styles: rectangular, triangular and other geometric shapes that can complement any interior.

Ideal For: Small to medium potted plants
2. Wall-Mounted Planters
Similar to floating shelves, wall mounted planters are a fun element to add to your walls, and they are simple to hang.

Ideal For: Hanging plants like marble pothos or smaller herbs
3. Indoor Trellis Planter
Typically used in outdoor gardens, a trellis inside of your home will be eye-catching. Add it against your walls or use it as a divider in one of your rooms.

Ideal For: Climbing vine plants
4. Hanging Planters
Elevate your plants by using macrame hangers or other ceiling planters. This will add a nice boho look to your home while also allowing your greenery to get access to sunlight.

Ideal For: Orchids or hanging plants like String of Pearls
5. Window Sill Plant Display
If you have a lot of windowsill space with sunlight, this is an ideal home for your plants. Use a variety of pot sizes or even something like a mini window greenhouse, available in hardware stores and nurseries, to add dimension to your windowsill.

Ideal For: Indoor garden plants like chives, oregano or basil
6. Hang Plants from Rails
Grab a wall-mountable rail, some pots and hangers. When you put them all together, you've got the perfect place to exhibit your plants.

Ideal For: Herbs or small to medium plants
7. Clothes Rack Plant Hanger
A clothes rack can be transformed into a breath-taking vertical garden. Add your potted plants to the base of the rack and add hangers to the top to support any greenery.

Ideal For: Vine or hanging plants
8. Tiered Plant Display
Use a tiered stand to display your plants in a captivating and compact way in your kitchen or other parts of your home. Bonus points if you add additional accessories to the stand to accompany your flora.

Ideal For: Small plants like succulents
9. Simple Box Planters
Small box planters can go anywhere in your home from window sills to coffee tables.

Ideal For: Succulents or small flowers
10. Pin Climbing Plants
If you have vine plants and are trying to find an alternative way to display them, you can do so by stretching them across your wall. As the vines grow, grab clear push pins to hold the vine up across your wall.

Ideal For: Climbing plants like English Ivy
11. Dowels and Pipes For Plants
Another way to get your plants up off of the ground is by using things like a copper pipe or branch to hang your indoor plants.

Ideal For: Vine or other small to medium plants
These creative ways to display houseplants will inspire you to cultivate your green thumb!