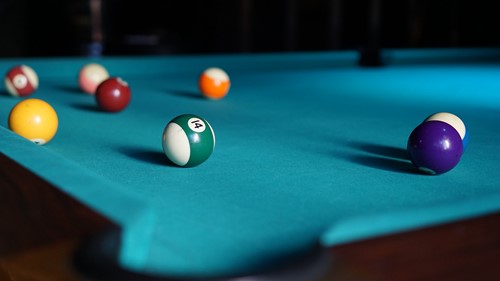 The most important element in designing a game room is to have fun. However, fun means something different for everybody. Depending on the type of gaming you want to do, there are some specific tips to help you in setting up the best possible playing space. Here we'll go over some popular types of game rooms and their key features to help guide your design plans.
Billiards
Billiards or pool tables are true classics for home gaming. However, it requires quite a bit of space. Not only do you have to fit the actual pool table, but you need ample space surrounding it in order to safely and comfortably play. This means a billiard room will have the obvious focal point of the table itself and often minimal seating. If you want to include seating, try setting up a bar counter on one or more walls and add stools. This saves space while still giving you a place to sit and watch or wait for your turn. Hang a low chandelier centered over the pool table to add adequate lighting and a classic, retro feel to the room. To store cues, opt for wall-mounted stands or clips to hold them in place when not in use. This makes for an eye-catching design choice and a smart use of space.
Cards & Tabletop Gaming
Card and board games definitely require a specific type of setup. The most important thing is the playing surface, usually a round table seating 4 or more people. The key to finding the perfect gaming table is to provide enough room to include as many players as possible without getting too cramped or too spread out. In tabletop roleplaying games, being too far away from your fellow players can cause communication issues and make seeing shared assets difficult. Then again, nobody wants to play poker while feeling people are close enough to see your cards. The best solution is a convertible table that can expand to fit more people as needed. Just make sure you have the right amount of chairs to go with it!
Multiplayer Video Gaming
Multiplayer console gaming may seem simple to design for, but there are some key things you can do to make the space extra fun and efficient. Console gaming requires at least one screen, therefore visibility is going to be your primary concern when planning the room. Decide whether you'll go with a TV or projector or multiple screens and arrange furniture accordingly. If you're in a room with windows, try sitting in different corners of the room to help avoid screen glare and determine optimal visibility. One easy and fun way to do this is to invest in a set of bean bags or other easily movable seating. This way, depending on the size of the group and the type of game you want to play, people can move their seat for comfort. Having a big sofa facing the TV is a great place to start, but the flexibility of additional seating will prove extremely helpful for anybody who might need to sit further or closer from the screen.
These are just a few of the different game rooms you can design for. It's also common to combine all three or more into a single space. Let the activities themselves guide your decisions and build your design according to your preferences. Don't forget safety and comfort, however. Whether it's adequate space around a pool table or accounting for screen visibility issues, the more safe and comfortable your game room is, the more fun you'll have.